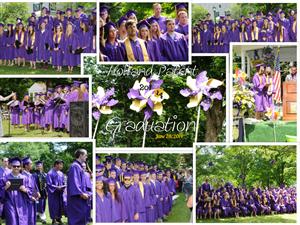 HP is proud to share that 100% of this year's senior class met
graduation requirements.
6 students had a cumulative average in excess of 95% and
graduated with Highest Distinction.
14 students had a cumulative average in excess of 90% and
graduated With Distinction.
14 members of the Class of 2014 graduated with a
Regent's with Advanced Designation Diploma with Honors.
32 students received a Regents with Advanced Designation Diploma.
66 students received a Regents Diploma.
This represents 94.1% of the graduating class receiving a Regents Diploma or higher.
22 students who not only completed Regents Diploma requirements, but also passed a national certification test in their BOCES class and qualified for a Technical Endorsement Certification on their diploma.
Valedictorian, Laura M. Panzone
Salutatorian, Martha Jane Redmond

Class of 2014, on behalf of the faculty and staff of
Holland Patent Central Schools,
congratulations and good luck in all your future endeavors.