Welcome to the Holland Patent Golden Knights Interscholastic Program.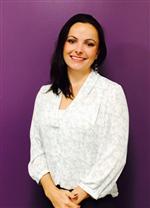 Dear Holland Patent Students, Parents and Community:
I am honored to be the Athletic Director at Holland Patent and I am very excited to work with everyone as we maintain, strengthen and build the programs at Holland Patent. I have a passion to provide children with the best opportunities so they develop into outstanding young men and women.
I encourage all students to explore the opportunities within the interscholastic athletic programs Holland Patent offers. The playing field, track, court and pool are unique environment our student athletes have opportunities to learn in a multifaceted approach. The benefits of these programs include educating the whole child as it provides avariety of unique environments in which student athletes experience social, emotional, physical and strategic learning.
Our Athletic program emphasizes the importance of academics for the "student-athletes". Academics provide the pathway for students to participate in athletics. Coaches, teachers, parents, principals, guidance counselors and athletic director are directly involved in assuring and maintaining student eligibility through the monitoring of academic progress and providing support to help student athletes uphold academic performance standards.
Holland Patent coaches are well qualified individuals who uphold the philosophyof the district, athletics program, academic program and standards established by NYSPHAA. Coaches are receptive to students and parents to ensure the safety of all athletes socially, emotionally and physically. We encourage coaches to maintain a coaching philosophy as it aligns with Holland Patent Central School District. We expect coaches to implement professional expertise within the decision making process to benefit the health and safety of individual athletes, team and program.
Holland Patent Athletics is committed to the student development of a moral compass in school and outside of school. In order to exercise the development of character, ethics and moral compass, all stakeholders are encouraged to demonstrate good sportsmanship as an example to our growing athletes and children. Holland Patent expects that all participants uphold the code of conduct as a means to facilitate fun sporting events. In addition, we expect student athletes to demonstrate high levels of character within the community and digitally as they represent themselves, family, community and school.
I am very excited for this 2016-2017 academic and athletic year! I am here to support, please contact me with any questions, concerns and feedback.
Go Knights!
Sincerely,
Tamara Barbour
Athletic Director/Assistant Principal