Welcome to Kindergarten Violin!
During this course, we will cover a wide variety of techniques, skills, and activities that will support your child's physical and cognitive development.
We will begin learning the rest position song this year to remind us how to hold our instruments properly in that position. Find the lyrics to our rest position song below, or sing along with the YouTube video below:
Rest Position Song (sung to Twinkle):
Rest position feet in line
Scroll out front that's mighty fine
Check your bridge 'cause it should be
Peeking out at you and me
Now it's time to take a bow
"Ichi" "Nee" and "San" is how
We will be learning how to pluck open strings on the violin before we use the bow. Remember the order of your strings by thinking...
Good Dogs Always Eat
Open String Songs (sing and play):
G G G, going up to
D D D, going up to
A A A, going up to
E E E, going down to
A A A, going down to
D D D, going down to
G G G
Eek Eek Eek! (EEE, AAA, DDD, GGG)
Eek Eek Eek, all the little
Ants Ants Ants, they are going
Down Down Down, way into the
Ground Ground Ground
When we begin to use the bow, we will practice the following bow games: Up Like a Rocket, Witch's Brew, Windshield Wiper, Elevator, Wheels on the Bus, and Musical Cups. Students will have the opportunity to improvise, and create their own open string songs.
Students will be able to bring a violin home for the length of one six-day cycle when they are in second grade. This gives them the chance to share what they have learned with their families, and also gain a better sense of the responsibility and dedication it takes to play an instrument.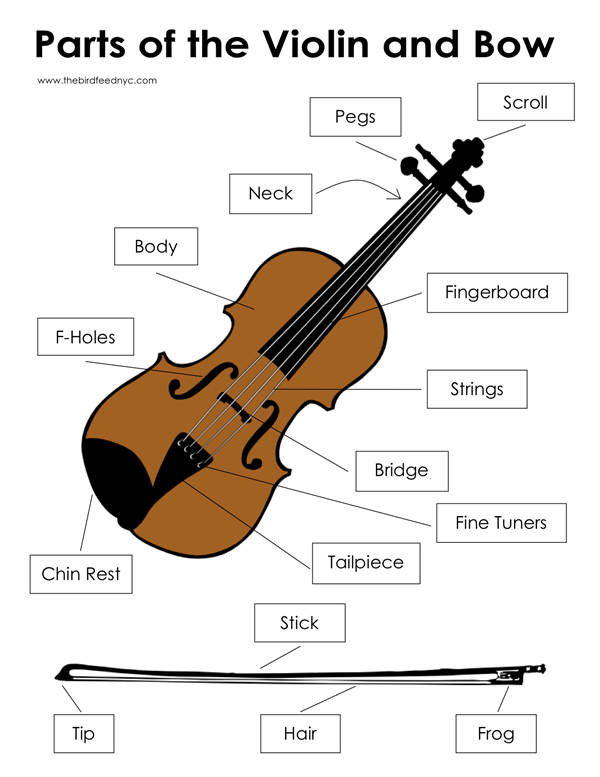 ---