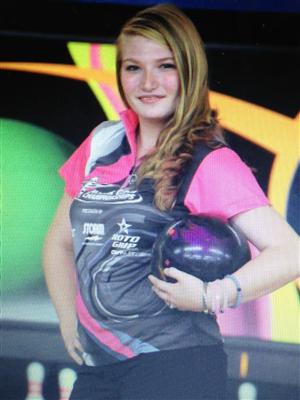 Jenna Rose Harrington, a captain on the HP Girls' Varsity Bowling Team, has proven that dedication and hard work in your sport can really pay off. Since joining the team in 7th grade, Jenna Rose has always set high goals for herself and has had a busy year working toward those goals.
In November, Jenna Rose signed on at, Franklin Pierce, a Division II school, with a bowling scholarship, where she will be majoring in psychology.

Throughout the season, Jenna Rose worked toward the goal of being one of the top bowlers in the area. She also spent a lot of time working with the other girls to help them become better bowlers.
In February the bowling team lost the Section III title to Clinton at the Section III Finals, a title the team had held for 2 years. Then it was on to CSC Conference where the team worked hard to snag the title from Sherburne-Earlville but fell short. Jenna Rose did not walk away from the day without honors, winning trophies for the Overall high game for CSC and Overall High Series for CSC in our division. She was also named to the CSC All Star Team and was CSC Division Champion.
In February, Jenna Rose was invited to participate in the Section III Shootout. She rolled the highest 6 games of the day for females, clinching a spot on the NYS Section III Team.
On March 4, Jenna Rose headed to Buffalo, NY to compete in the State Competition. Jenna Rose bowled three excellent games and the team finished in third place.

Jenna Rose has been very competitive in her field for several years. She competed in the USBC Junior Gold competition last year in Chicago, IL, and has qualified to compete again this year in Indianapolis, IN.

Just this week, Jenna Rose was named a 2016 USBC Youth Ambassador of the Year, a title which is granted to one male and one female bowler nationwide. Jenna Rose was chosen over all other candidates for her contributions to the sport, academic achievement and community involvement. To receive this honor, along with a $1,500 scholarship, Jenna Rose will be traveling to Las Vegas, NV in April.

Congratulations to Jenna Rose for all that you have accomplished and will accomplish in your future!