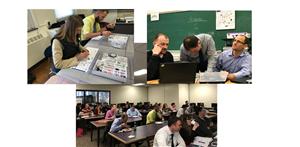 On Thursday, March 30th, over 35 NYS master teachers from the Mohawk Valley Region visited the Holland Patent Middle School and participated in an interactive tour of the Makerspace. Stacey Smith, a middle school science teacher and master teacher, hosted the event. Teachers from the Emerging Technologies PLT demonstrated and shared lessons using drones, 3D printing, LittleBits electronics, Arduino and Raspbery Pi microcomputers, and an iPad augmented reality app.
The HP Middle School Makerspace has been open for business for the past two years. Throughout the school day, students can sign out of their study halls to visit the maker space. Each month, students experience a different project challenge in the maker space, allowing them to acquire skills needed to use technology equipment. The Friday afternoon Maker Space Club allows students more in-depth experience with these challenges. Time is also available for free exploration and creation.
The NYS Master Teacher Program celebrates the work of the highest-performing STEM teachers by establishing a community dedicated to developing expertise in the areas of content, pedagogy, and students' families and communities. The Mohawk Valley Cohort is based at SUNY Oneonta.