BATTLE OF THE BOOKS
Battle of the Books! 2023-2024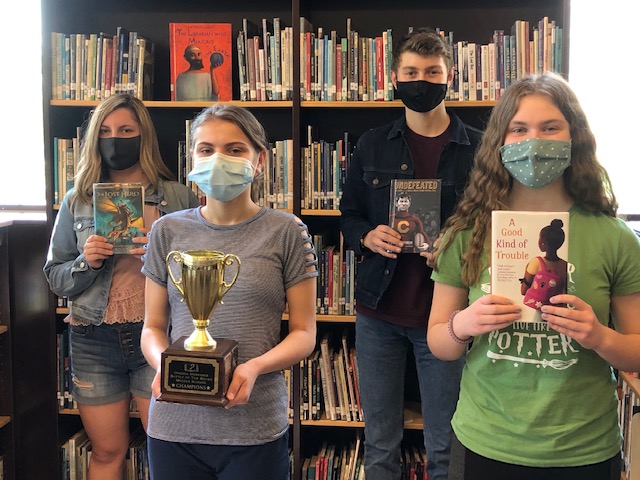 Welcome, readers!

We need YOU and your talents to join the middle school library's Battle of the Books club and bring the house cup to Holland Patent! The club will meet once a month after school—it is essentially an academic competitive team. Participants who stay with us through the whole year will be competing in April against other participating regional school teams. To learn more about this exciting opportunity, an informative meeting will be held during the first half of your lunch period this Wednesday, September 13. Stop by and see Mrs. Horwat for more information until then. Hope to see you there!

Click here to watch a video about Battle of the Books!

Official/Final Book list for the 2023-2024 season (You must be logged into your hpschools SEARCH account to access this).
Library Book Club: Archives (This year, our club is Battle of the Books)
The library book club is led by the students!

We meet to choose a book to read, and Mrs. Horwat orders the books. Students listen for announcements that indicate that the books have arrived. Students stop at the library at their earliest convenience to get their copy. The group is encouraged to attend informal get-togethers in the library each Monday from 2:20 to 3:00 pm to discuss the book as they read--questions, discussions, planning for the real meeting, etc. Students decide on the date of the next meeting, based on how quickly they are proceeding with the book. On the final meeting day for the book, students participate in activities such as re-enactments, scavenger hunts, games, discussion, or whatever they decide upon (usually one student volunteers to organize and lead that entire meeting, enlisting help from others in the group when necessary). On final meeting days, we enjoy snacks and fun book-related activities! Then, we repeat with a new book.

All students are welcome and can join at any point. Reading the book is mandatory because if you don't know the story, none of the activities will make sense and you won't be able to contribute, so if you don't enjoy reading, please find another club!

Library Book Club members must listen to the announcements in the morning every day, and it would also be helpful to check into this site as well. I, Mrs. Horwat, will from this point on keep announcements here, too.

Hope to see you soon, readers!

P.S. These are the books we've read so far:

2015-2016:

Miss Peregrine's Home for Peculiar Children

Artemis Fowl

Double Identity

The ENTIRE Missing Series: Found, Sent, Sabotaged, Torn, Caught, Rescued, Sought, Risked (8 books!)

Inkheart

That's 12 books in a year!

2016-2017

The Septimus Heap series: Magyk, Flyte, Physik (3 huge books)

Among the Hidden, Among the Imposters, Among the Betrayed, Among the Barons, Among the Brave, Among the Enemy, Among the Free (all 7 books in the Shadow Children series)

10 books this year! (But really, the Septimus Heap books should count as 2 each, which makes this more like 13 books this year)

Update: We now have two groups. One is a Warriors Book Club only! Join one or both.

Warriors: Into the Wild, Fire and Ice, Forest of Secrets, Rising Storm, Dangerous Path (5 so far in the Warriors series)

I think this is as far as we're getting. There's one more book in the original Warriors series; I encourage all of you in this club to read the final book this summer! Borrow your copy for free through Midyork.org!